After a two-year grand jury investigation, the case of Jerry Sandusky has been laid to rest.  On October 9th, 2011, Sandusky was found guilty of 52 counts of sexual abuse and sentenced to 30 to 60 years in prison.   Judge John Cleland who issued the sentence acknowledged that the length of his term within that time period would be pretty irrelevant.
According to USAToday, Cleland said that he "could impose a sentence of "centuries," referring to the maximum punishment of 442 years. But given Sandusky's age, 68, the lesser term still ensured that he would spend the rest of his life in prison."
Sandusky, served as the assistant football coach at Penn State for 30 years before going under investigation in 1998 after a mother reported that her son was molested by Sandu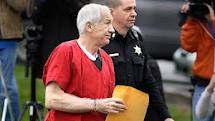 sky in the shower.
After the investigation began, allegations of Sandusky's sexual abuse accumulated as more boys came forward.  Sandusky's past caught up with him yesterday and he finally heard the amount of pain he put his victims through as they confronted him face to face.
"A few victims broke down during their statements, speaking about how they have been riddled with torment due to Sandusky's actions, with a number of victims claiming they suffer from PTSD, anxiety, and depression," according to US News.
In such serious, nationally known cases, accurate courtroom reporting becomes pertinent seeing as how people's reputations – and lives – are at stake.  Despite trying to fairly cover the Sandusky case from the beginning, courtroom journalists couldn't help but report the important moments of the trial, sparking public disgust of Mr. Sandusky and his behavior before his sentencing.
Seeing Senators spit on each other might be easier for Jane Grey Swisshelm to stomach while trying to write one of her articles than courtroom reporting today.