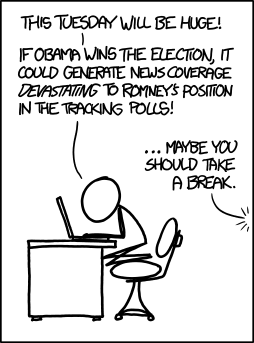 The election is tomorrow and I am so nervous I can barely stand it. Just thinking about it makes my throat close up and my heart beat just a little faster.
While my stomach is tied up in knots, I can't help but wonder: why the heck am I so nervous?
According to the final Post-ABC poll from this weekend, Obama has the lead over Romney by a comfortable three points (50-47). If Obama takes Virginia, the election is in his pocket.
In response to the latest NBC/WSJ/Marist Poll, Rachel Maddow blogged about the importance of Virginia for Obama.
It's a reminder to keep a close eye on the commonwealth tomorrow night, because it may well be the swing state that dictates the outcome. If the president wins the likely-blue states, and then picks up Iowa, Nevada, Wisconsin, and Virginia, he'll pass 270 — even without Ohio and/or Florida.
Plus, if Barbara Streisand is supporting President Obama, then by golly he has to win!
But, is Barbara enough? Do the predictions and polls ring true? Let's hope so. Otherwise I'm moving to Canada.