The ethical aspects of journalism are always strained around the time of a US presidential election and the 2012 race was not exempt of the abuse of social media outlets.  Because everyone can be a publisher now, most felt entitled in posting their bias through Facebook, Twitter, and other public forums.  Lacking professional training in journalism etiquette, newbie publishers succeeded in offending strangers, peers, and even close friends with their remarks regarding the race between Governor Romney and President Obama.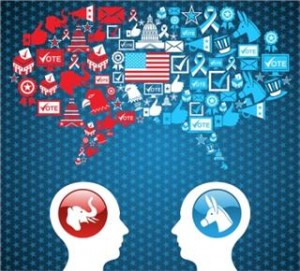 Beyond political opinions, active social networkers are skewing ethical lines in the workplace.  The Ethics Resource Center has been publishing the National Business Ethics Survey since 1994 availing the public, (free of charge), of ethical perspective in the workplace.
According to the social media website Mashable, ERC is the "oldest non-profit organization in the U.S. dedicated to independent research and advancement of high ethical standards and practices in both public and private institutions."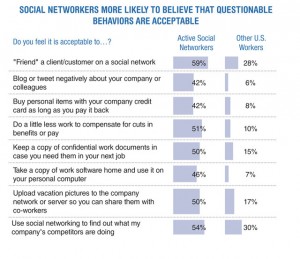 The results may be disappointing to employers but not necessarily surprising with the influx of interaction via social media venues.  In a recent study, ERC found several connections between the workplace and social media interaction.
Though the chart indicates that social networkers are more haphazard in the workplace, the author of Firing at Will: A Manager's Guide, Jay Shepherd refutes the generalization.  "The idea that social networkers are more apt to be unethical is absurd. It's just that you're more likely to hear about it. In my experience, social media participants are likely to be more advanced in terms of relationships and thoughtfulness — not less."
Social media may gain more civility with time or prove to be total anarchy but it seems to be too soon to tell.