Nellie Bly was an American journalist known best for writing an in depth expose on abuses taking place in an asylum. While writing this piece, Bly went undercover as a resident to better under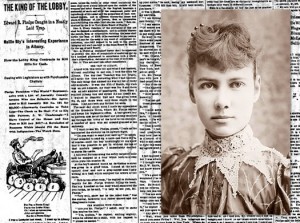 stand the inner workings of her subject. Her consummate approach to storytelling earned her a name among the ranks of famous muckrakers of her day. To this day Bly is celebrated for her journalistic achievements.
Her pioneering career began while struggling to find work as a young teacher in Pittsburgh. She wrote a letter to the Pittsburgh Dispatch expressing her displeasure with their coverage of working women, admonishing the author for their narrow mindedness and shedding light on the challenges women of her time faced. Impressed by her passion and craft, the paper hired her.
By 1887, Bly began writing for the New York World. She was given the assignment of covering the conditions of a notorious home for the mentally ill in New York state. Rather than observe its residents or conduct interviews with staff, Bly posed as a patient and entered the asylum for ten days. Her story got the attention of many in the community and actually created social change among lawmakers and locals who saw the mistreatment of those institutionalized at the center.
Bly also made a name for herself by traveling around the world on a solo journey in just 80 days. This trip brought her even more fame, and she went on to write a book about her travels. Whether Bly used her experiences to give others a voice, went undercover or staged a great adventures, she holds a place among the world's best journalists and one of the original muckrackers of her time.