In April 2009, the 1st U.S. Court of Appeals, based in Boston, reversed a U.S. District Court's decision to allow webcasting coverage of court proceedings.
The case involved a lawsuit by Sony BMG Music brought against a Boston University student for downloading music.
The appeals judges noted the district judge overstepped her authority by initially allowing the webcast.  The appeals judges cited local civil rule 83.3 when issuing their opinion.
Most state courts allow cameras in the courtroom, but each federal court determines if, and when, cameras are permitted in federal court.
The ruling comes as no surprise, because the U.S. has a long history of wavering over reporter's rights to cover trials.
According to Mitchell Stephens' book, "A History of News," one judge tried to prohibit reporters from covering a trial by preventing them from taking notes during a murder trial in 1830.
By 1839, however, the federal judge in the famous Amistad case allowed reporters to cover the proceedings.
Nearly 100 years later, Bruno Hauptmann faced trial for the kidnap and murder of the Lindbergh baby.  Billed as the crime of the century, the world waited for the television coverage to begin.
After Hauptmann's trial, the courts reverted to their exclusionary ways.  Courts issued rules prohibiting flash photography and loud, bulky television cameras in the courtroom.  That is, until O.J. Simpson rode into the spotlight with his trial of the century.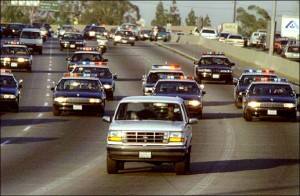 (pocoperdiem.wordpress.com)
By then, technological breakthroughs made photography and videography more courtroom friendly.
In 1995, O.J. Simpson's trial for the murders of Nicole Brown Simpson and Ronald Goldman brought court coverage back into prime time.  CourtTV, which is now TruTV, covered the trial from start to finish.  The trial garnered headlines for more than eight months.  Court TV saw its ratings skyrocket during the Simpson trial and immediately expanded its coverage of court cases.
Unfortunately, today's courts are behind the times.  The laws and rules that cover access to court proceedings were written before the Internet.  Fortunately, some lawmakers are attempting to bring the laws and rules into the 21st century.