OK, so I have  a confession. Up until last week I had an Sansa mp3 player.
Yes, I've gone without an iPod for that long.
So now is the time to buy an iPod. Zune is going down and I honestly don't hear anything else about the other mp3 contenders so I'll just get an iPod. It's easier.
While I was at Micro Center, I checked some out. What a difference between my old Sansa mp3 player and the iPod Touch or even just the iPod classic! iPods are sleeker, can use apps and even some take pictures.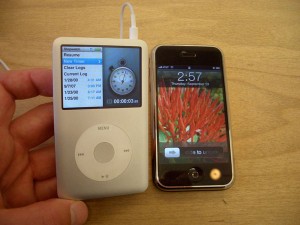 But of course most people reading this already know that. But you have to realize I didn't even have Internet on my mp3 player.
Since I have an Android phone, I've always wanted to see how the other side lives. I'm just debating about whether to get an iPod or iPad (or both!)…
And who knows? Maybe I'll even get a Mac. It just goes to show you how far good presentation goes.
Let's just say it's a good thing Black Friday deals are coming up.