When the big story just isn't enough, journalists must dig deeper.
Stories that have been unearthed, so to speak, may constitute muckraking or investigative journalism. These types of stories do, however, sometimes reveal themselves as big stories. Therefore, muckraking and big story reporting often times go hand-in-hand.
The Watergate Scandal was broken by Bob Woodward and Carl Bernstein of The Washington Post. Through enterprise journalism this groundbreaking story was revealed to the entire world. It was, without a doubt, one of the biggest stories to ever be reported on in the history of journalism.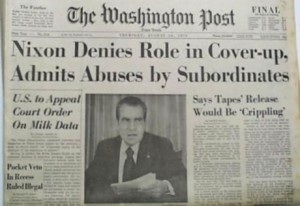 Sometimes a journalist has to dig deeper to find the 'scoop' on whatever he or she feels may be actually occurring. When a reporter does this, the story is most likely going to be big. It is these kinds of stories that make their way to the headlines. Former president of ABC News, David Westin, argues that news is a commodity but reporting is not. What he means by this is that news is readily available everywhere but reporting and journalism takes hard work.
Investigate and find the real story behind the cover. That's where the big story lies.