Edward Bernays is considered the first public relations practitioner in the world and a founder of the field. In this case, a public relations practitioner would refer to someone "who d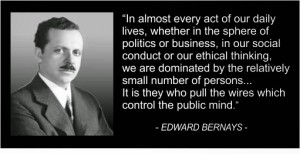 raws on the social sciences in order to motivate and shape the response of a general or particular audience". Bernays was distantly related to Sigmund Freud and was instrumental in incorporating psychology, sociology and the works of his relative Freud into the then fledgling discipline of public relations.
One of Bernays' first clients was the U.S. Government, who hired Bernays to encourage businesses to hire veterans. This relationship was significant in that it was one of many new indicators of the changing relationship between the government, the press and the people. His use of psychoanalysis to manipulate messages was controversial in his lifetime but nonetheless has had a lasting impact on the way practitioners go about reaching their business goals, even to this day. One of his most notable campaigns was for Lucky Strike cigarettes, in which he effectively normalized women smoking cigarettes in order to increase sales.
Throughout his life and career, Bernays published several books that helped establish the practice and begin its frameworks as a discipline. He unsuccessfully attempted to pass legislation that would require the licensing of public relations practitioners a few years before his death in 1995.