Just about 15 years into the 'online era,' newspapers are suffering — but not as bad as was once thought.
Besides the fact that daily newspaper circulation has been dropping every year for the past two decades, newspaper companies still experience decent business for a world overwhelmed by the Internet and electronic news.
The case may be that the issue with newspapers has not as much to do with a decline in readers, but a decline in advertisement revenue. By the end of 2011 newspaper circulation revenue was remaining about the same while ad revenue was dropping considerably. There was a 7.3 percent decrease in 2011, making the profit margin between circulation revenue and ad revenue the least it's been since 1984 — when newspapers were on the rise.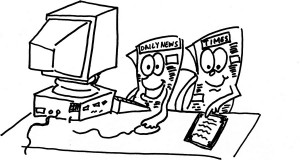 In a digital age, print media is heavily on the decline. In fact, last year Google revenues were $4 billion greater than that of the entire newspaper industry.
There is some hope, however. Newspapers benefit from an array of advantages:
Monopolies – cities usually have one newspaper
Newsgathering – large reporting staffs
Locality – readers want locally knowledgeable news
Readers – quantity and quality of readers
Attention – many people still pick up newspapers
Brand Name – USA Today and The Washington Post both are huge names
Although the world heavily leans toward an Internet-based market, newspapers still retain relevancy and power.