"If I'd written all the truth I knew for the past ten years, about 600 people – including me – would be rotting in prison cells from Rio to Seattle today. Absolute truth is a very rare and dangerous commodity in the context of professional journalism."
                    – Hunter S. Thompson      
You've undoubtably heard of Hunter S. Thompson, who wrote some of the most telling and influential stories journalism could possibly offer. "Fear and Loathing in Las Vegas" and "The Rum Diaries," to name a couple, are extremely educational tools for the young journalist. What could be taken away from these teachings in Gonzo journalism you ask.
If you take a moment to understand the context and setting of Thompson's works, which were distributed by several of the largest magazines and newspapers in the world, you'll begin to absorb just what he was for the generation he belonged to, and even more so, the time we live in now. HIs stories were radically honest. 
He could be sent to an NFL game to write a story, and come back a month after deadline with a story that blows the top off the whole organization. He got away with running past deadline because he could be trusted to tell his audience a story, while immensely upsetting to some, about the unreal truths of a time and place.
Thompson infiltrated realms in American journalism that no one else could. After writing "Fear and Loathing in Las Vegas" in 1971, he started covering George McGovern's campaign and published "Fear and Loathing on the Campaign Trail '72." Thompson was fiery and driven to report on what he felt was the real American Dream, and what aught to be.
Ultimately, he didn't change the way Americans acted, but instead brought forth the truth as no one had ever seen it. Thompson's way of writing is more important now than ever before. During political and country wide unrest over issues that matter most, honest journalism is the only journalism that deserves an audience.
The quote that introduces this story should give you an idea of the kind of difficulty Hunter S. Thompson faced in being as honest as he was. He always had more to say, yet he understood that the line must not be crossed if he was going to play the game. We, too, play the game.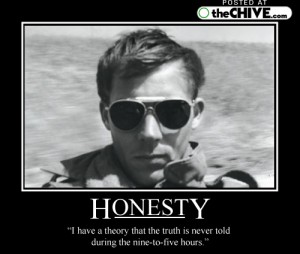 Photo and courtesy of TheChive.com