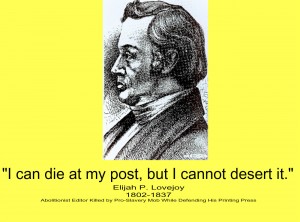 During the Civil War Era, tension grew between those who were pro-slavery, and those who were against slavery. After watching a slave being burned at the stake,  Elijah Lovejoy became an advocate for the abolition of slavery and published a religious newspaper called The St. Louis Observer. His editorials became very harsh towards slavery, which caused southerners and slaveholders to hate him. In 1836, his press was destroyed by a mob. Fearing the safety of his family, he moved to Alton, Illinois, the free state.
The pattern continued in Alton. He continued to write and publish, but by supporting anti-slavery and joining anti-slavery organizations, the citizens of Alton began to dislike of him too. Lovejoy continued his work against slavery, even after 3 of his presses were destroyed. Unfortunately, his passion for anti-slavery led to his death. In 1837, 20 of his supporters were helping him guard a new press. The crowd outside of the warehouse grew and tension grew. The pro-slavery mob outside began throwing rocks at the warehouse window and violence broke between both groups! One of the "enemies" climbed a ladder and set fire to the roof of the building. In efforts of trying to help the others put the fire out, Lovejoy was shot 5 times and died in the arms of his friend.
The mob responded by cheering and storming into the warehouse to destroy the new press. The death and story of Elijah and the other abolitionists represents freedom, thought, speech, and the press. Elijah Lovejoy died fighting for what he believed in, and because of this, the abolitionist movement was strengthened.