In 1738, Elizabeth Timothy quickly went into work mode after the death of her husband, Lewis Timothy.  With six children ages 13 and under Elizabeth assumed role of publisher and editor of the "South Carolina Gazette," working side by side with Benjamin Franklin.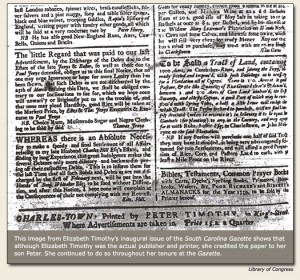 Credit:  http://www.nwhm.org
Women have played a vital role in sustaining the development of journalism since the settlers arrived in the New World.  For more information about these women and their contributions, check out the National Women's History Museum's "Women with a Deadline" site.
Franklin noted that Elizabeth operated the Printing House with "Regularity and Exactitude…and manag'd the Business with such Success that she not only brought up reputably a Family of Children, but at the Expiration of her Term was able to purchase of me the Printing House and establish her Son to it."
How cool is it that Ben Franklin preferred Elizabeth to her husband as a business partner?  It's also curious that Elizabeth placed a note in the "South Carolina Gazette" asking for contributions to her family after the death of her husband.  Did her readers know that she was the editor, and turn a blind eye?  Or did they believe that her 13-year-old son had really stepped up to the plate after his father's death?
Elizabeth's son did take over the paper in 1746 when he turned 21.  Elizabeth is recognized for her hard labor and intellect.  After his take over she opened a successful book and stationery store next to the printing office on King Street.